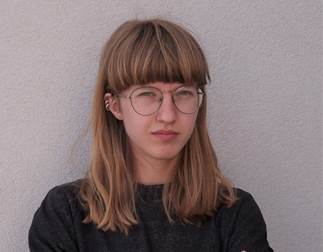 Claudia Lepik
92nd Street Y is pleased to announce the selection of the Jewelry Center's third annual Artist in Residence, Claudia Lepik. She is an Estonian jeweler working in metal and mixed media with an edgy, avant-garde style. A recent graduate of the Estonian Academy of Arts, she explores connecting jewelry to the body in unusual ways, using the power of tension in her materials to hide and reveal parts of the body, and delves into the themes of strength and fragility. The residency at 92Y begins August 14 through September 15, 2019 and culminates with a workshop the weekend of September 14 and 15 led by Lepik.
Claudia Lepik was chosen for the 92Y International Jewelry Residency program by a distinguished jury including: Kathy Chazen, 92Y Board and Jewelry Center committee member; Freyja Hartzell, Associate Professor, Bard Graduate Center; Jonquil O'Reilly, VP Head of Sale, Christies; JB Jones and Bella Neyman, co-founders of NYC Jewelry Week; and Jonathan Wahl, 92Y Jewelry Center Director.
"I am thrilled to welcome Claudia as the 2019 Jewelry Artist in Residence," Wahl said. "Claudia's work is arresting, beautiful and challenging, and she is part of a growing movement in contemporary jewelry to depict work in an editorial style 'out of the white cube' and on the body. She represents the next wave in how contemporary jewelry is considered. Her work also touches on the movement of Dutch jewelry from the 60s that engaged the body in a similar way and body adornment from numerous traditions including her own ethnic Seto culture, blending these themes in a manner that is both seductive and hard to overlook.
"This residency is designed to provide time, space and facilities for research, experimentation and the cultivation of new ideas in jewelry and light metalwork — all while giving the artist an immersive experience in the vibrant world of New York City and 92Y's arts and culture. We were thrilled to receive applications from around the world and we're looking forward to welcoming Claudia this summer," Wahl continued. 92Y Jewelry Residency is supported by 92Y Board member, Kathy Chazen. Previous Jewelry Center Artists in Residence have included Ineke Heerkens (2018) and Göran Kling (2017), who was most recently featured in Vogue.
"I am honored and thrilled to be chosen as a participant in the 92Y jewelry residency 2019. New York's artistic atmosphere will be very influential on my work due to the strong local fashion scene that I am interested in incorporating into my architectural creations," Lepik said.A record number of applications were received from jewelry artists in 33 countries. The jury also recognized two runners-up for the residency: Ebrahim Mohammadian Elird from Bosnia Herzegovina for his lyrical and mystical jewelry and outstanding technical prowess, and
Fabiana Gadano from Argentina for her beautiful use of recycled plastic bottles which resemble flower petals or sea creatures under her hand's manipulation.
92Y has a long tradition of artists in residence in various disciplines—most recently, visual artist Shantell Martin completed a three-month residency at 92Y in fall 2018 prior to her site-specific collaboration with the NYC Ballet at Lincoln Center, and we've welcomed dancers, writers, musicians and others.
About 92Y Jewelry Center
The Jewelry Center at 92Y, under the direction of Jonathan Wahl, is the place where artists and designers from the world of studio jewelry, fashion jewelry and academia meet to create, teach and connect. From its beginnings as a single metalworking class in 1930, the Center has grown to become the largest and most esteemed program of its kind in the nation, and the oldest open studios in New York City. Its stellar faculty span the worlds of production and art and foster a space where all aspects of jewelry design can be explored.
The Center serves more than 1,400 students a year through 60 weekly classes, weekend workshops and visiting artists. The Center's four fully equipped studios enable specialized training in such techniques as enameling, goldsmithing, silversmithing, stone setting and wax carving, in addition to a formal Judaica metalsmithing program that is unique in the nation. The wide variety of classes and levels allows students to pursue comprehensive courses of study, whether a basic introduction for the absolute beginner, or advanced workshops and studio time for pre-professionals and professionals refining their skills.
92Y's Jewelry Center hosts a Jewelry Talks series to deepen understanding of all facets of the art of jewelry. The series, which is sponsored by Christies, is led by Stellene Volandes, Editor-in-Chief of Town & Country magazine, and author of Jeweler: Masters Mavericks, and Visionaries of Modern Design.
Three times a year (on Giving Tuesday, Valentine's Day and before Mother's Day), volunteers from 92Y's Jewelry Center community, visit schools and the Win Women's Shelter. They teach simple beading technique and assist with making necklaces from donated designer beads to present as gifts. It is the perfect opportunity for 92Y community members to take the skills they have learned and share them with the next generation of artists and makers. This program is supported by 92Y Producer's Circle member Stacey S. Mayrock and is in collaboration with Karen Giberson, the President of the Accessories Council.
The Center hosts the only jeweler Artist in Residence program in New York City, and is open to artists on an international scale. Truly multifaceted, the 92Y Jewelry Center is a New York City gem with an increasingly global profile.
92Y Jewelry Center summer classes have been announced. Please see the full offerings here.