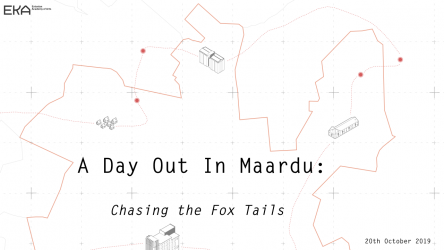 From atop the hill of the St. Michael the Archangel church, we locate ourselves with a red, wooden sign. Perched in a grassy landscape of northern Estonia's town, Maardu, the sign reminds us of our geographical place in the world—15 kilometers from Tallinn, 812 kilometers from Minsk, and some 5000 kilometers from Mongolia. In closer proximity lies Estonia's largest cargo harbor to the north and man-made Maardu Lake just south. While Maardu gathers its identity by reaching to each cardinal point in space, the municipality also gazes backwards and forwards in time: a 13th century Swedish village, former and present summer cottages, Stalinist and late modernist housing, and remnants of phosphorus mining all collide with the future development plans for the Muuga harbor and new single-family homes to create the present-day traces, flows, and ways of living in Maardu. 
First year students from the Estonian Academy of Arts' master's program in urban studies invite you to join them on Sunday, October 20, in asking questions of identity, place, and urbanisation in Maardu. Together we will explore—on foot and by bus—the expanse of the town, all the while considering what is this place called Maardu, what memories do its forests and factories hold, and to which networks within and beyond its municipal boundaries does it contribute?
We will embark on our tour at 12:30 from Balti Jaam bus station (stop 6 Balti jaam, public bus no 102 towards Kallavere). For those joining within Maardu, the tour will pick up at the Õunapuu puiestee bus stop in Muuga aedlinn around 13:15. Bring a snack, as well as hats, mittens, and raingear suitable for an Estonian autumn day. The estimated tour length will be 4 hours, with stops in Muuga aedlinn, Muuga harbor, Rootsi-Kallavere village, Kallavere district of Maardu, and the former industrial area of Kroodi. The tour will be given in English. Space is limited: reserve your place on the tour by emailing Lisa Rohrer at lisa.rohrer@artun.ee.