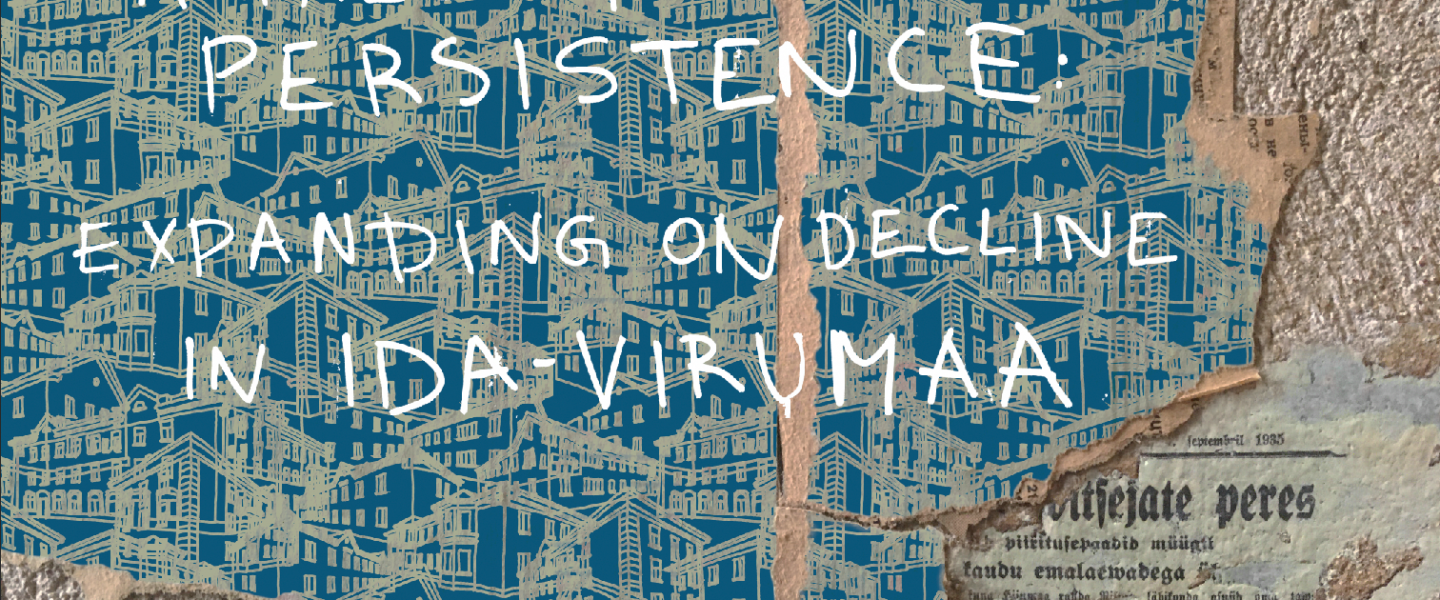 In Ida-Virumaa the politics of the climate neutral futures, the deprived status quo and the infrastructures inherited from the past intensively meet, showing multiple endings but also some possible new beginnings. The landscapes of Ida-Viru, where distinguishing between the man-made and the natural has become increasingly difficult, conceal something we might describe with the word 'hope'. They speak of a future different from the one that was planned in the past. That difference, despite the bleak outlook is still liveable—these are environments of adaptation where a new tale is being made.
Students of urban studies and interior architecture were asked to question how various experiences of habitation could be connected to the governance of decline and strategic shrinkage of the built environment. A Tale of Persistence focuses on areas of Kohtla-Järve and Kiviõli, a duo of out of many municipalities in decline in East Estonia, where the changing policies and socio-economic drivers of recent decades have led to excess supply of housing. Contrary to specific housing programmes and demolition initiatives, this course has approached housing as an experience. Tandems of both study programmes worked with different conditions of decline by rethinking growth or adaptation. Their projects use varied mediums and techniques to examine formal and informal practices, debates in literature and applied studies. 
A Tale of Persistence: Expanding on Decline in Ida-Virumaa is a final grading of Estonian Academy of Arts Urban Studies and Interior Architecture Urban models studio, tutored by Kristi Grišakov, Keiti Kljavin and Laura Linsi. 
Students: Þórhildur B. Guðmundsdóttir, Ardo Hiiuväin, Janosh Heydorn, Daria Khrystych, Veera Gontšugova, Juss Heinsalu, Eeros Lees, Oleksandr Nenenko, Mira Samonig, Fernanda Torres, Semele Kari, Mirell Ülle, Triin Juhanson.
Guest critics: Anna Anna Bitkina (The Creative Association of Curators TOK), Tüüne-Kristin Vaikla and Maroš Krivy (Estonian Academy of Arts)
Join us online: https://zoom.us/j/94968674543 
————————————————————————–
Hope Against Hope
The In-Betweenness of Emptiness
by Mirell Ülle and Mira Samonig
Emptiness does not necessarily equal a state of something being empty; in fact, it can be very full, but full with the wrong things. This renders emptiness to a condition of disorder, of unclearness. It constitutes a state in-between the tension of something that has ended, and another thing that is not yet graspable.
This project investigates the concept of emptiness within the shrinking context of the east Estonian town Kiviõli. It highlights the varying aspects of emptying traced throughout Kiviõli's history and intends to make emptiness informed by a feeling of hopelessness comprehensible. Eventually, a glimpse into a possible future is offered that re-approaches emptiness neither through the lens of hopelessness nor hope, but as a potentiality for both.
Plural Preservations
by Janosh Heydorn and Juss Heinsalu
Plural Preservations reflects on the complexity of maintaining areas of milieu value. A compiled album of the possible futures of Lehola Street ansambel takes a close look at the Stalinist architecture and its prospect. Engaging with theories and formal guidelines of preservation, speculative scenarios unfold seemingly disappearing options to navigate protective regulations, ownership division, financial segregation, architectural value and will. This project is a flow of thought, an experiment to explore the concepts of preservation in the context of shrinkage. 
DachaIn
By Oleksandr Nenenko and Triin Juhason 
The focus t of the project is to find a conceptual vision for a 'green' strategy which could help to deal with the decline of the Järve district in Kohtla-Järve. Inspired by the experience of countries like Germany and the US, we looked into the possibility of bridging urban farming and post-soviet dacha culture (its structure, functions and practices). Our work investigates possible ways of bringing those two phenomena into the urban context of Kohtla-Järve in order to create sustainable and ecological urban blocks that through supporting various forms of gardening lifestyles help to reactivate the town.
Sompa Sanctum
By Semele Kari
The condition of living in godforsaken Ida-Virumaa declining settlements made me wonder, "Why do people stay in these ghost-towns and how?" Since then, I have rephrased the question to: Why should someone new go and live there? If this environment symbolises an abandoned territory, could it speak out to those whose environment has neglected them?
In this interaction between human and built environment I see a way for redemption. This shrinking physical world is giving back something by going backwards, dying a slow death. And in the process of leaving this world it represents an ongoing prospect of decay.
The user of this world harvests the last it has to offer: silence, solitude and sanctuary, the spirits of this long gone functional world. These last men standing are giving back to architecture in means of mercy, worship and care which manifest in the coexistence of decline. 
Adaptation of Facades in Times of Decadence
By Eeros Lees and Fernanda Ayala Torres
Our project investigates the aesthetic change of Kohtla-Järve central boulevard Keskallee.  Here the adaptation and transformation of the facades of Stalinist architecture are reflected, as their ornamentation and symbolism are making a way for small businesses on the first floors   bringing along new signs, window stickers, painting practices, new entrances and perhaps also new hope? Our vision marks the changing reality of a decadent city that reinvents itself through its facades but must still follow heritage requirements. 
To Keep Or Not To Keep: Reconsideration of Khrushchevka
By Veera Gontšugova and Daria Khrystych
The project is an online archive aiming to recover the public image of the Soviet-time mass housing building typology, known as the Khrushchevka. Such a typology tends to be not favored in the post-Soviet environment, occasionally entailing the abandonment and demolition of these buildings. By gathering and structuring information, our goal is to present a future-oriented point of view to showcase the potential and hope for this particular residential building typology. We base our storytelling on the historical findings, empirical data as well as presenting the examples of dealing with the similar issue in different contexts. By looking at both material and social aspects, we are referring to the retrofitting and collective living strategies that can be implemented in order to rebound the reputation of Khrushchevka.
Rethinking Growth
Þórhildur B. Guðmundsdóttir and Ardo Hiiuväin 
Our project explores the idea of "giving land back to nature" within the context of spatial shrinkage and half-emptiness, with a focus on rewilding. Accepting the half-empty future of Sompa, we aim to question the concept of wilderness and emphasise the importance of the shared sense of responsibility required to create a sustainable living environment. 
These ideas are implemented through proposing a vision competition for the rewilding of a selected housing complex in Sompa. With the hope of bringing in a wide array of ideas and perspectives, the competition entries would reflect the different ways of which rewilding can be a tool for engaging with spatial shrinkage. Furthermore, the goal of hosting the competition is to bring attention to this subject, inviting the public to ask what shrinkage actually entails, what it means for those affected and ultimately valuing the already existing qualities embedded in these shrinking communities.