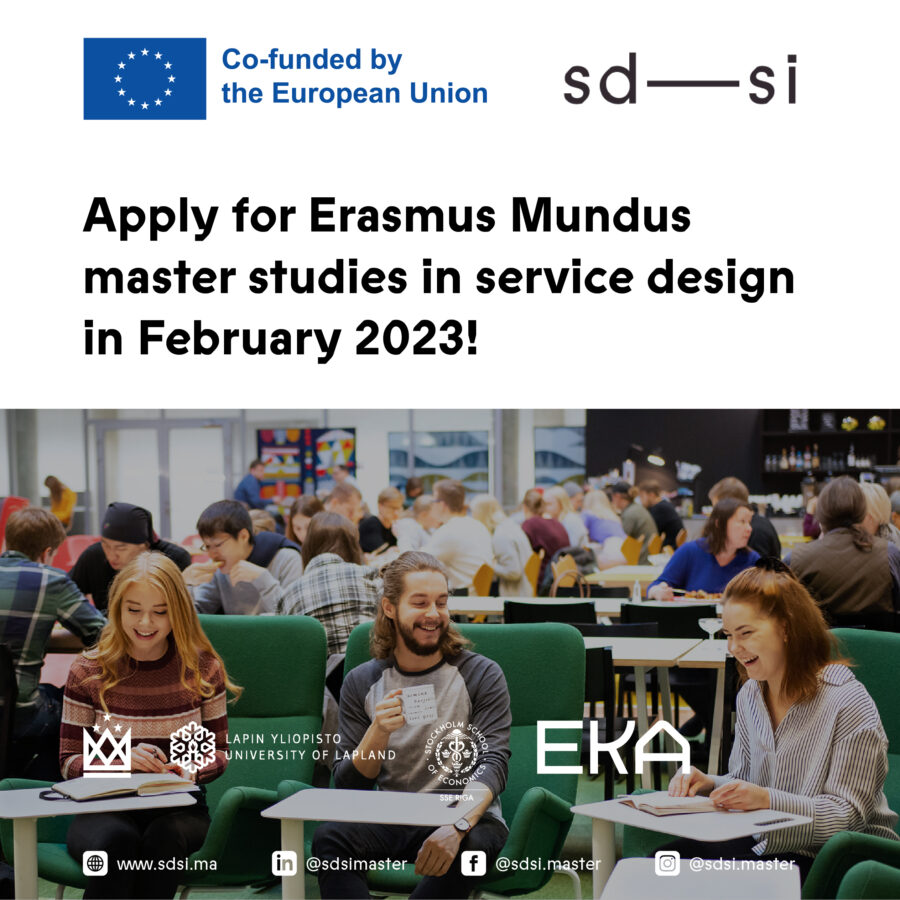 Erasmus Mundus Joint Master's Degree Programme in Service Design Strategies and Innovations (SDSI)
Service Design Strategies and Innovations (SDSI) is an international masters' degree that is jointly designed and delivered by 3 Nordic partners – the Estonian Art Academy, the AAL and the University of Lapland in Finland. The Stockholm School of Economics in Riga, Latvia, participates in the programme as an associate partner, providing lectures and knowledge transfer from the business domain. Starting with the study year 2023/2024, SDSI will officially become an Erasmus Mundus Joint Masters' programme.
Europe is undergoing a significant change that results in shifting of existing socioeconomical paradigms and requires new ways to develop humancentric solutions in situations of increasing uncertainty. Desire for a sustainable approach of doing business and experiencing a quality life have defined ambitious goals set forth in the Green Deal and needs for ensuring of competitiveness in a way where parts of population and business are not left behind have resulted in critical initiatives of Digital Transformation. These challenges and aspirations need radically improved or even completely new solutions. They even require entirely new ways of understanding and interpreting of the problems and needs in complex and uncertain contexts. Our answer to this is a multi-disciplinary, joint-degree awarding Service Design Strategy and Innovation Masters' programme, SDSI (120 ECTS), involving the Art Academy of Latvia, the University of Lapland, the Estonian Academy of Arts and the Stockholm School of Economics in Riga, aimed at educating of leaders who will be able to address ongoing shift to sustainability and digitalization in a human-centered way. SDSI will prepare students to become versatile service innovators who can enable change in public and private organizations through strategic design, management and creative leadership. Its focus is on interdisciplinary studies and cross-specialization in design, business, technologies and social sciences. SDSI graduates will become change facilitators to contribute to innovative, effective and socially responsible service organizations globally, in their home countries after graduation.
Duration of the Project is from 01 October, 2022 till 30 November, 2028. During this period, four student intakes will be organized, starting with the study year 2023/2024. During each intake around 30 international students will be admitted – at least 121 students in total for the duration of the project. 100 of the students will originate from the Erasmus+ Programme Countries, and 60 of them will be selected for the Erasmus Mundus scholarship of 1400 EUR per month for the duration of their studies (no more than 10% of the total number of scholarships will be awarded to students from the same nationality). Additional students will be selected and scholarships awarded to 21 students from the groups of the Neighbourhood, Development and International Cooperation (NDICI – 18 students) countries, as well as the Instrument for Pre-Accession Assistance (IPA – 3 students) countries. SDSI students will spend at least two study periods of 30 ECTS in two countries which are different from their country of residence – Latvia, Finland and Estonia.
The total grant amount of the Project No. 101082388  is 4 899 600.00 EUR, including 2 721 600.00 EUR that are allocated for student scholarships. The project has also two other associate partners – the Kuldīga District Municipality and the NGO "Kuldīga Artists' residence " – who will both ensure extra-curricular and cultural experiences for the SDSI students at their Latvian study location, the town of Kuldīga.
Funded by the European Union. Views and opinions expressed are however those of the author(s) only and do not necessarily reflect those of the European Union or the European Education and Culture Executive Agency (EACEA). Neither the European Union nor EACEA can be held responsible for them.
SDSI Facebook:
https://www.facebook.com/sdsi.master
SDSI Instagram:
https://www.instagram.com/sdsi.master/