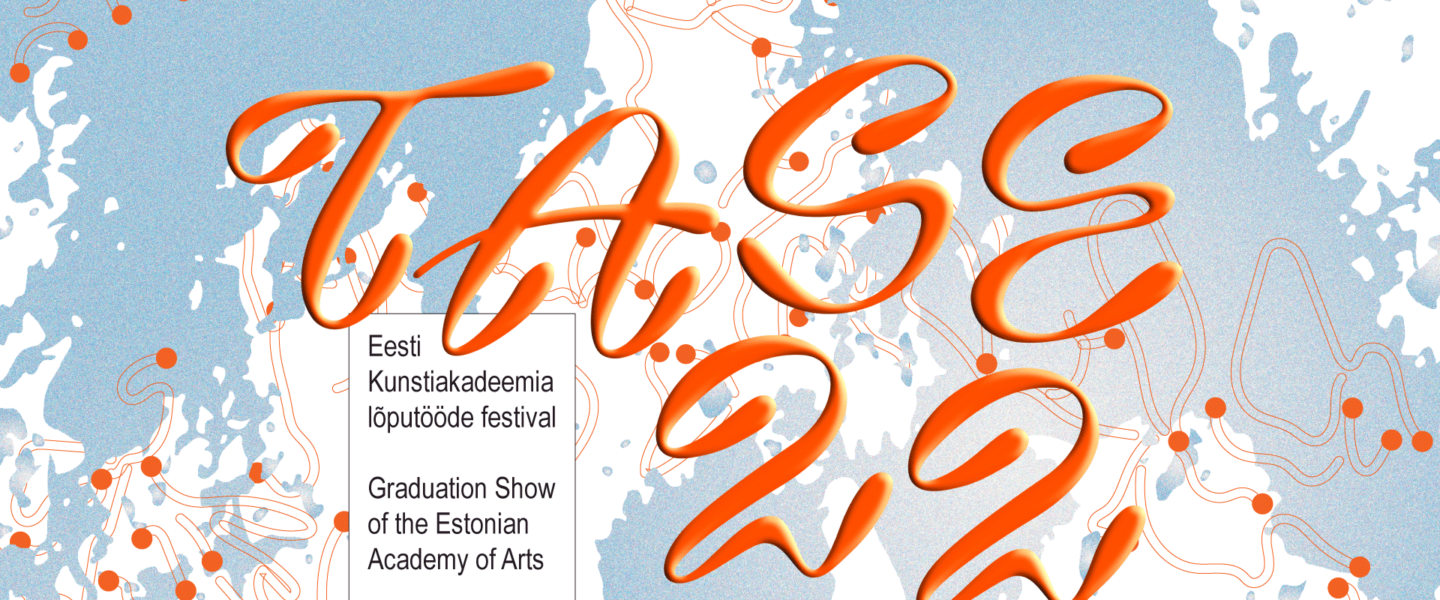 Estonian Academy of Arts Grad Show TASE'22
28.05–09.06, open daily 12.00–18.00
Opening: 27.05, 16.00, EKA
Exhibition locations:
EKA, Põhja pst 7 
Vent Space, Vabaduse väljak 6-8
ARS Art Factory, Pärnu mnt 154
Rotermanni 7
TASE is the annual graduation show of the Estonian Academy of Arts. It presents the final projects of Fine Arts, Architecture, Design, and Art and Culture faculties' master's students, along with the final artworks by Fine Arts and Design faculties' bachelor's students. The opening of the main exhibition and TASE'22 webpage tase.artun.ee takes place on May 27th at 4 pm at EKA! 
Most of the works are exhibited at EKA on all five floors and including EKA Gallery and Billboard Gallery. Additionally, you can visit the exhibition at ARS Art Factory (Project Space, Showroom and room 112), Vent Space, Rotermanni 7, Lai 31, Kanuti Gildi Hall Cellar, and Kadriorg Art Museum. See more info on the programme.
tase.artun.ee opens simultaneously with the main exhibition on May 27th!
In addition to the works at the main exhibition, written theses by PhD and Art and Culture graduates and grad works from the rest of the BA graduates will be presented on tase.artun.ee. Last year's TASE page can be found at tase20.artun.ee and tase21.artun.ee.
Young Artist Award and Young Applied Artist Award
Applied Artist Award winners at the master's and bachelor's levels will be announced at the opening of TASE main exhibition. The prizes are each 1500€. The prizes are each 1500€.
Young Artist Award winner at the master's level will be chosen from Contemporary Art graduation works and at the bachelor's level from the Graphic Art, Installation and Sculpture Painting, and Photography graduation works. The master's prize includes a solo exhibition at the Hobusepea or Draakon gallery in 2023. This year's jury members are art professionals Elin Kard, Marko Mäetamm, Aleksander Zahharov, Karolin Poska (only MA), Sigrid Viir and Maarin Ektermann.
Young Applied Artist Award winners will be selected from the Design and Crafts graduation works. The master level prize includes a solo exhibition at the HOP Gallery. The jury members are Maria Valdma, Ketli Tiitsar, Gregor Taul, Keiu Krikmann and Tiina Sarapu.
Head organiser: Pire Sova
Assistant: Dana Lorên Vares
Exhibition design: Brigit Arop, Katarina Ild, Anabel Ainso
Communication: Solveig Jahnke, Andres Lõo, Maarja Pabut
Graphic design: Birgita Siim, Agnes Isabelle Veevo, Aaro Veiderpass
Web coordinator: Kert Väljak
TASE FILM and opening event: Johanna Kuzmenko, Ligia Fernandes
Supported by Eesti Kultuurkapital, Kasevetekohin, Mistra