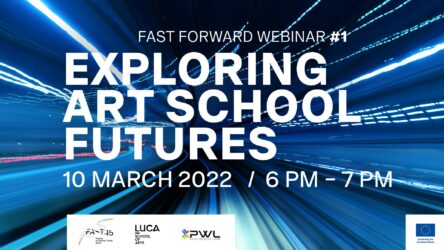 Exploring Art School Futures – webinar!
10 March @ 18:00 – 19:00 CET
Hosted by LUCA School of Arts
FAST45 is a pan-European research project which aims to create new methodologies, envisage future scenarios, and develop tools and initiatives which will empower arts institutions not only to anticipate an unknown future but to actively shape it.
Join our panel of thought leaders and forward-thinkers for a live studio debate online envisioning the arts education landscape in 2045. Hear the perspectives of academics and students.
Discover the possible impact of climate change and mass extinction on arts teaching in the future.
Discuss the shift from a Eurocentric perspective on art education to a multifocal discourse. What effect will the 4th Industrial Revolution on the roles of art teachers and students?
Keynote speakers:
Arjen Van Klink Programme Director of the Research Centre Business Innovation and professor Next Strategy, University Rotterdam
Panel:
Maya Van Leemput Senior researcher for Applied Futures Research, Erasmus University Brussels
Valery De Smedt, Head of Research LABOpro (a research unit centred around an R&D approach on art- and design-driven innovation, sustainable challenges and digital opportunities)
Lien De Ruyck, Freelance Creative Strategist
Jeroen Laureyns, Lecturer in Contemporary Art
Moderator:
Lars Ebert, Programme Director of the Cultural Centre H401, Amsterdam.
***
This webinar is part of the FAST Forward Webinar series which aims to explore the future of higher education from three perspectives:
Exploring art school futures
The role of artists in 2045
Technology and arts education in 2045
The FAST Forward Webinars are brought to you by LUCA School of Arts, Technological University
Dublin and Film University Babelsberg KONRAD WOLF. Visit www.FAST45.eu for more information.