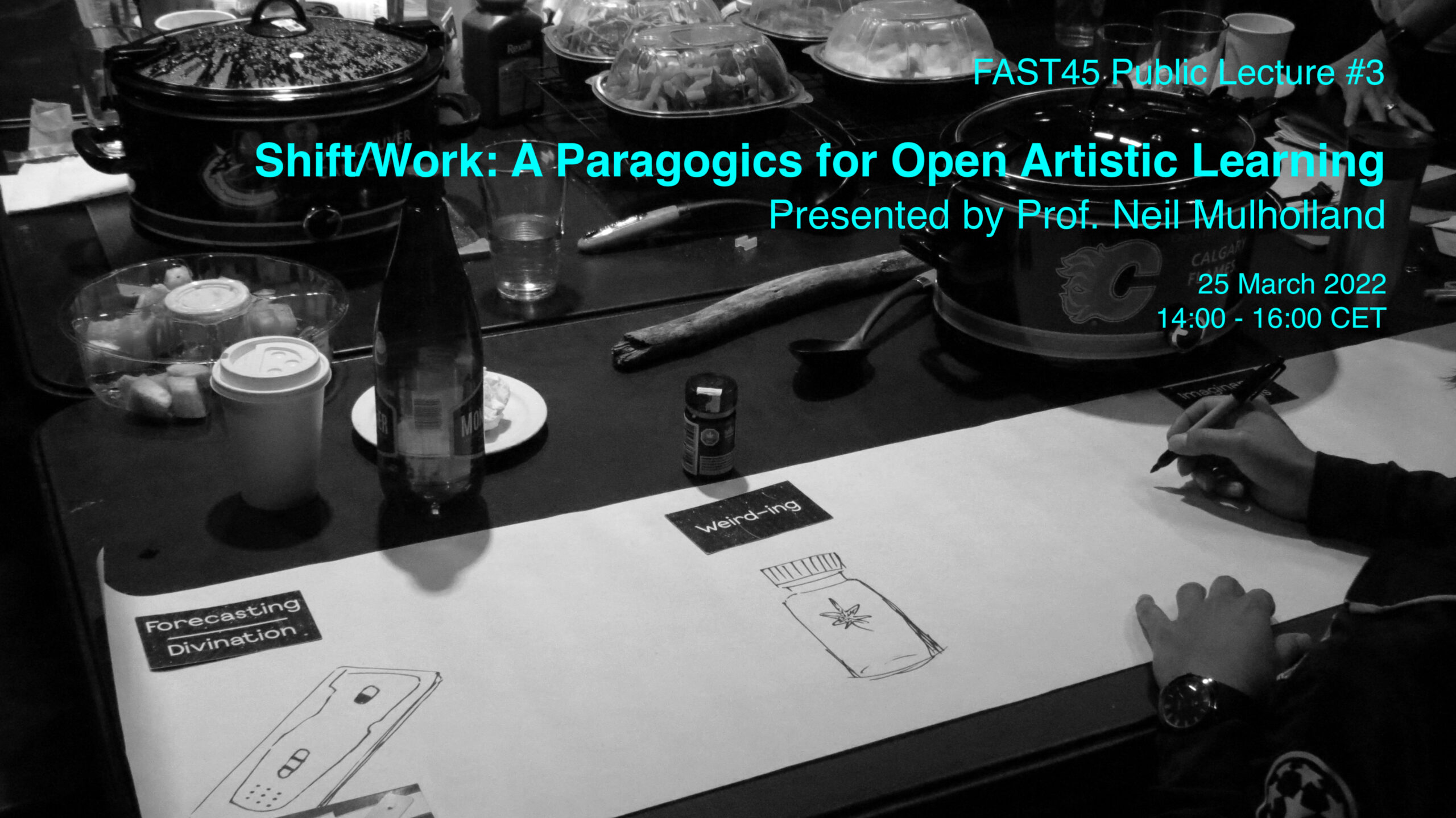 FAST45 Public Lecture III – Shift/Work: A Paragogics for Open Artistic Learning
Presented by Prof. Neil Mulholland
25 March, 2022
12:00 – 14:00 CET
In his book, Re-imagining the Art School: Paragogy and Artistic Learning (London: Palgrave, 2009), Prof. Neil Mulholland proposes innovative methods to redefine the art academy. Developing critical case studies of open source and peer-to-peer methods, he asks what happens when artistic learners deliberately engage with emerging educational practices such as the open paradigm (Winn 2015), paragogy (Corneli 2011, 2016) and para-academia (Wardrop 2014).
This lecture explores new visions and 'paratechnic' methods to build and imagine the art school of 2045 and will be followed by a Q&A session.
Guest speaker: Prof. Neil Mulholland
Professor Neil Mulholland is Chair of Contemporary Art Practice & Theory in The University of Edinburgh. www.neilmulholland.co.uk/drive
He runs the MA Contemporary Art Theory programme in Edinburgh College of Art. In Edinburgh, Neil works with Dan Brown, Jake Watts and Naomi Garriock as Shift/Work, a group of artists who develop workshop models for artistic paragogy, participatory visual methods and open educational resources. Neil recently published a book – Reimagining the Art School (London: Palgrave, 2019) – which develops the paragogics of Shift/Work into a broader manifesto for art school reform and contributed a Shift/Workshop to Leap into Action (Peter Lang, 2019) a reader on performative pedagogies in art education.
The FAST45 Learning Platform Public Lecture Series is brought to you by Technological University Dublin. Visit www.FAST45.eu for more information!