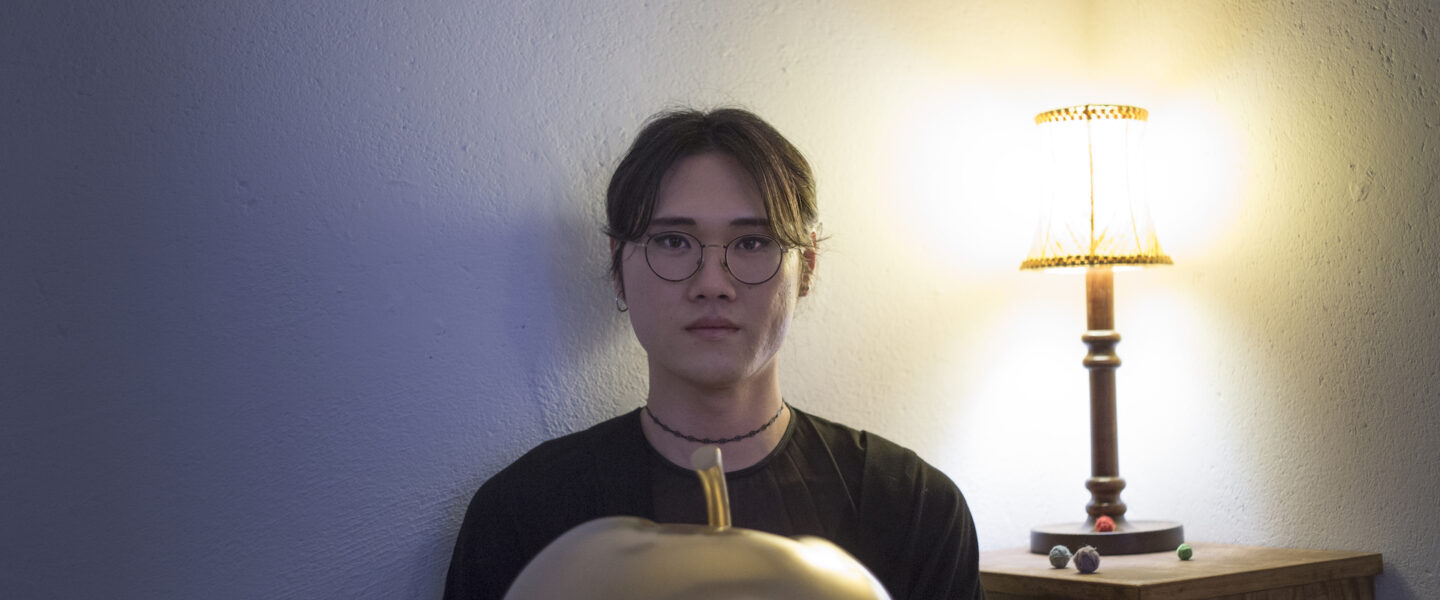 Junny Yeung. Photo: Taavi Piibemann
The winner of the Young Sculptor Award 2022 is Junny Yeung, a master's student of contemporary art at EKA. 2nd place went to Zody Burke and 3rd to Katariin Mudist.
As part of this year's jury, Edith Karlson, Laura Põld, Marten Esko, Anu Vahtra and Johannes Säre highlighted Junny Yeung's winning ability to tell a story, combined with elegantly drawn details and the author's ability to create a sparse body of emotional space with scarce resources. Zody Burke's work was highly regarded for its sensitive handling of materials and masterful execution that supported the idea. In the case of Katariin Mudist, the jury appreciated the author's conceptual gesture, sensitive site-specific and material-centered approach. In addition, Sophie Durand was recognized by the jury for her installation totality and Sandra Ernits for her fresh and clever approach to interpreting the sculptural object. Jonathan Stavleu was noted for his distinctive approach to sculpture.
The Young Sculptor Award Exhibition 2022 is open in the ARS Project Room. The aim of the Young Sculptor Award and the accompanying exhibition, which has been awarded since 2012, is to highlight and recognize the professional activities of young artists engaged in sculpture and installation. There is a selection of works completed by EKA students during the last year, from which a jury of experts selected the best ones. The main prize of YSAE 2022 is a one-month opportunity to work and improve oneself at Maajaama's creative residency in Southern Estonia. Simultaneously with the Prize Exhibition, the personal exhibition "Wrap Me Up" of the 2021 Young Sculptor Prize winner Sarah Nõmme has been opened in the ARS Showroom gallery.
The Young Sculptor Award has previously been awarded to Hanna Piksarv, Sten Saarits, Anna Mari Liivrand, Johannes Valdma, Rosa Violetta Grötsch, Johannes Luik, Siim Elmers and Sarah Nõmm.
Artists participating in the exhibition: Zody Burke, Sophie Durand, Heleliis Hõim, Sandra Ernits, Loora Kaubi, Inessa Saarits, Jonathan Stavleu, Karoliine Lausing, Lisette Lepik, Laura Liventaal, Johannes Luik, Katariin Mudist, Aleksandra Sofia Helena Nyyssönen, Rebura Parbus , Taylor Tehan, Triin Türnpuu, Junny Yeung.
The Young Sculptor Award Exhibition is open until March 5, every day from 2 pm to 8 pm at ARS Art Factory, Pärnu mnt. 154.