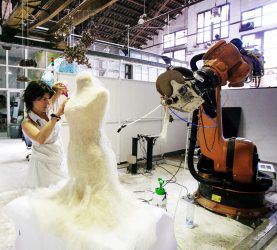 OPEN LECTURE SERIES: Anastasia Pistofidou – combining the analog and the digital towards applied research focused on new materials, art and textiles
The second lecturer of the Open Lecture Series this spring semester will be Anastasia Pistofidou, stepping on the stage of Kanuti Gildi SAAL (Pikk 20, Tallinn) on 8th of March at 6 pm. Her lecture is titled "Towards a new discipline of Digital Fabrication, Textiles and Biology".
Anastasia Pistofidou is a Greek architect specialized in digital fabrication technologies, design and education. She has a Master degree from the Institute for Advanced Architecture of Catalonia 2010-2011 in Digital tectonics and a Bachelor Degree from the Aristotle University of Thessaloniki, department of architecture in 2008. She currently works as the director of the FabTextiles research lab and the Fabricademy, a new textile and technology academy. She combines the analog and the digital towards applied research focused on new materials, art and textiles.
Technological advances, new materials and computational design are changing the way we design and manufacture products, consume and interact. At fabtextiles and materials lab at Fab Lab Barcelona Pistofidou is developing and implementing a new approach on to how create, produce and distribute fashion elements, by using distributed manufacturing infrastructures and knowledge networks. She experiments with scanning the human body, creating interactive wearable garments, working with biomaterials and circular processes, using 3D printing and parametric 3D modeling. Inside this context her practices prescribe the role and profile of future designers. What are the new skills, materials and processes for the future generations?
The Open Lecture Series brings to Tallinn a number of exciting architects, urban planners, academics from across the world. All Open Lectures are free of charge, in English, take place every fortnight, and are open to everyone – for both students and professionals of the field, general audience and students considering architecture for their further studies.
The architecture and urban design department of the Estonian Academy of Arts has been curating the Open Lectures on Architecture series since 2012 – each year, a dozen architects, urbanists, both practicing as well as academics, introduce their work and field of research to the audience in Tallinn. All lectures are in English, free and open to all interested, drawing an audience of students as well as professionals and academics from the fields of architecture, design, engineering but also fine arts. The series is funded by the Estonian Cultural Endowment.
Curators: Sille Pihlak, Siim Tuksam
www.avatudloengud.ee
https://www.facebook.com/EKAarhitektuur/