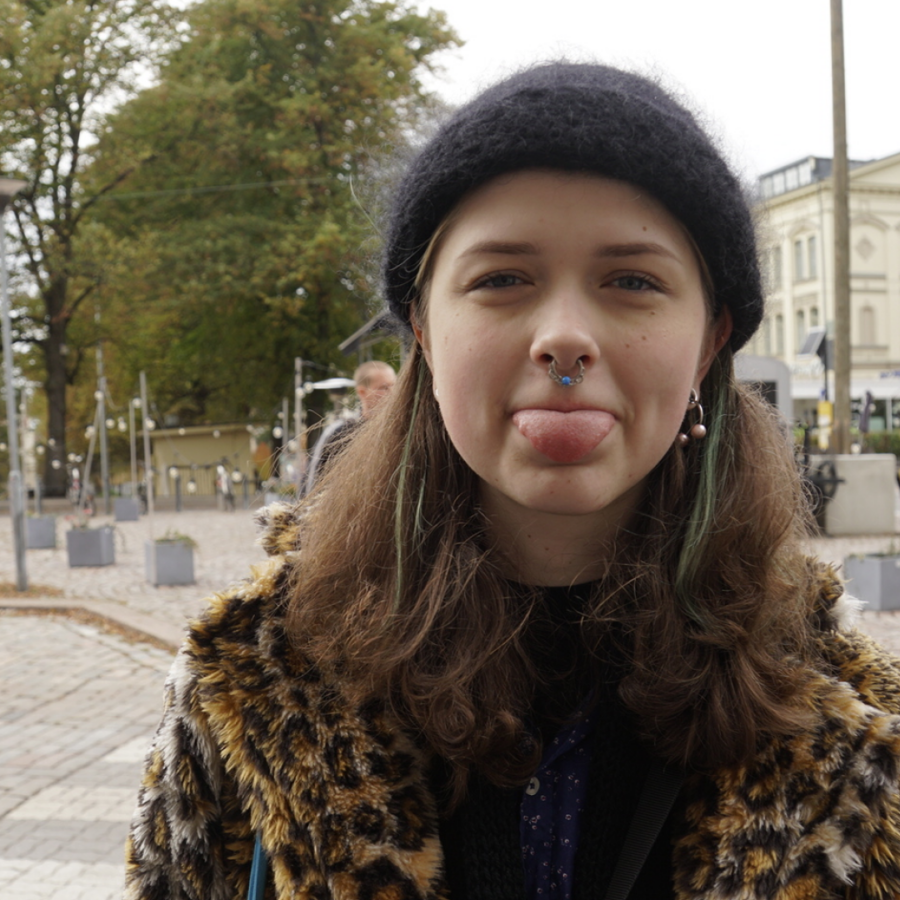 Anette Jaaniso. Photo: Personal collection.
The October Product Design Form takes us to the digital landscape with Anette Jaaniso. In terms of digital experiments so far, Anette has been most attracted to the world of games. We can bring out 3 of them – "Ylikool", which was completed as the final project of the programming course at the University of Tartu; "Postcapitalism: A New Hope", i.e. a self-initiated project, which resulted in a game prototype; and "Lawn Mowing Simulator", which aimed to make people aware that excessive mowing is harmful to the environment. Playfulness is reflected both in Anette's actions and nature. You can also play at the end of this form.
Name: Anette Jaaniso
Position: student
Connection to EKA: 2nd-year digital product design student
1. What projects are you currently working on?
This semester we are dealing with slow tourism. Our client is VisitTallinn, whose task is to create a digital solution that would make the stay for foreign tourists in Tallinn longer and more concise. We are currently in the idea development phase and my group's idea is moving toward making a game. I want to make the stay of tourists more enjoyable.
As a personal project, I have undertaken to make my online portfolio from scratch. Apart from the design side, I want to understand how the programming side works. I plan to start learning Arduino soon.
2. What is your favorite step in product creation and what does it look like?
I like to start new projects and delve into the topic – the research phase is quite interesting. Before EKA, I studied physics at the University of Tartu, so the need to analyze has stuck with me since then. However, my favorite stage is making the prototype. I usually use Figma for this, but I prototyped my game project in Unity. I like that prototyping can use the insights gained from previous research, but also apply creativity.
3. Paper and pen vs digital medium – which do you prefer?
This will definitely come as a very big surprise, but I prefer digital medium. A laptop is a good compact place to gather all your data. That way they are in one place and I can access them quickly.
I still use paper for sketches, but mainly because I don't yet have a convenient way to do them digitally right away.
I like to paint and draw more on paper, but in the meantime, I also do digital paintings.
4. What has been your favorite project while studying at EKA? What did you discover during that?
My favorite project was making a game in the spring of 2022. Our client was the Estonian Museum of Natural History – they wanted a game for a new museum exhibition on the topic of urban nature. I knew I liked to play and had already prototyped two games by that point, but with this project, I realized that I could make money making games. I realized that I want to be the kind of designer who makes people's lives more enjoyable.
5. Guilty pleasure – "poor design or tools for designing" that you secretly like?
Old web design has a special place in my heart. I still remember the Windows XP era and it comes with nostalgia, but the aesthetics of an even older internet warms my heart. I like the interesting look and simplicity of it, which I implement whenever possible.
6. Something you wish you had invented/designed?
This a very difficult question. Sometimes I use an app like Habitica, which helped me a lot and was fun to use. This app makes ordinary tasks more playful and gives you extra motivation to finish your things. I would like to create such applications in the future.
7. One good reading that has inspired you professionally?
Steve Krug's "Don't Make Me Think" was one of the first design books I read. When I discovered the digital product design major at EKA, it seemed interesting to me, and I started reading about it to find out if it would suit me. This book inspired me to study digital product design at EKA.
8. Besides design, what else attracts you?
From the previous questions, you can tell that I like to program and play games. I am fascinated by what is happening in the educational scene, as my family is closely connected with it, for example, my grandmother was a lecturer in the department of interior architecture at EKA. In addition, I like to watch movies and series in my free time, especially from the science fiction and fantasy genre. Relatedly, I like science and new technologies and discussing the ethical issues that may come with them.
9. What experience so far has shaped you the most as a designer and how?
I think the game-making project has shaped me the most because I understood the direction I want to go as a designer. I don't want to become a real game designer, although I could make a few bigger games in my lifetime. I am more attracted to gamification, i.e. making common applications and everyday activities more playful.
10. Where can we learn more about your work and activities?
The portfolio is currently in the making, but you can have a look at my museum game here: https://inter9neti.itch.io/lawn-mowing-simulator (more games will be added).
Personal email: anette.jaaniso@gmail.com .
Selection of works by Anette Jaaniso.