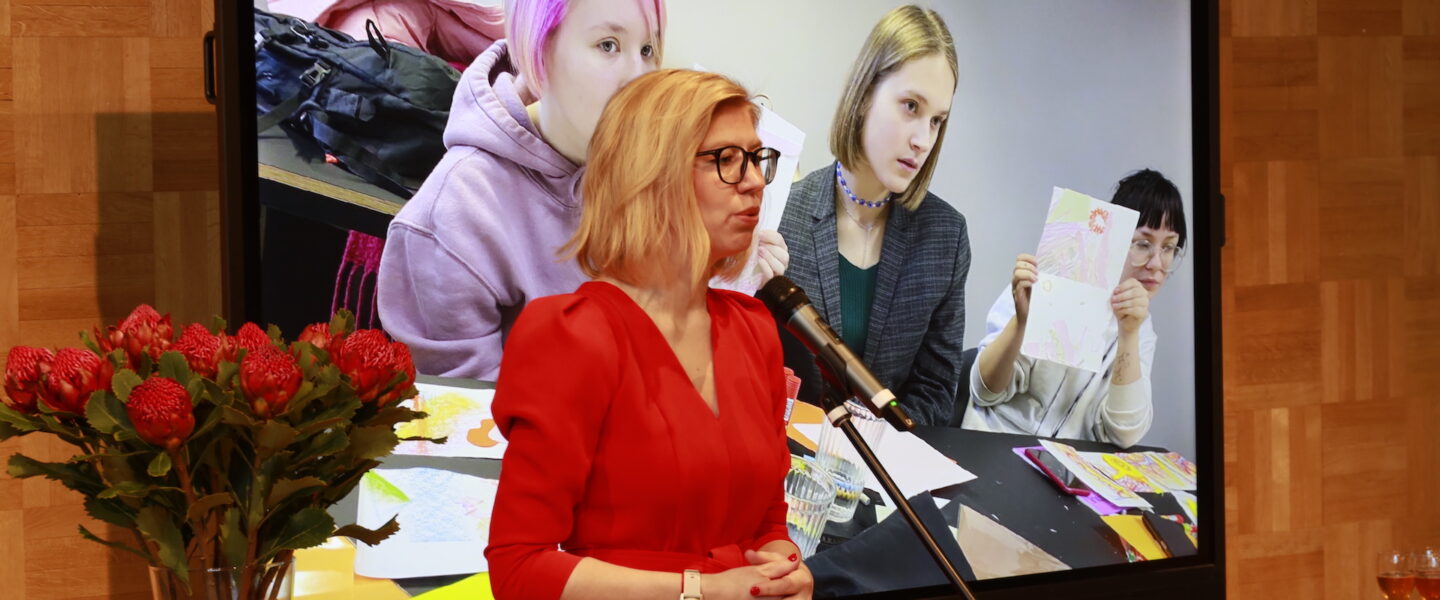 Minister of Culture Piret Hartman thanks Ukrainian students, Daria Titova in the middle of the screen. Photo: Andres Lõo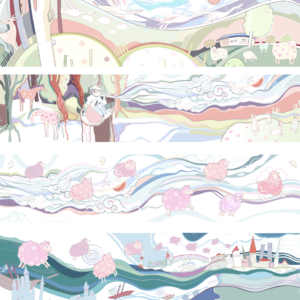 Daria Titova's designs
Inspired by daydreams, Daria Titova, from Kharkiv, has delivered the winning vision for art to adorn the new kindergarten in Ovruch. Her entry, "Flight of Fantasy", includes four works which will form supergraphics on the walls of each of the kindergarten's four classrooms. This art competition was organised by the Estonian Academy of Arts (EKA), the Ministry of Culture, and the Estonian Centre for International Development (ESTDEV).
The ambition of this competition was to design supergraphics for the interior walls of the kindergarten that would create an inspiring environment for the children of Ovruch. Ukrainian art students from EKA, the Viljandi Culture Academy, and Tartu Art School participated in the competition.
'The jury considered the strength of the winning work to be its effective concept, which balances both abstract and recognizable objects. The artist's unique style plays with themes of dreams and travel, offers the joy of discovery, and has a pleasantly soothing undertone,' stated Anne Pikkov, head of the art competition and Vice Rector of Academic Affairs at EKA.
According to Daria Titova, the winning artist, she loved to draw and daydream as a child. 'I usually drew while waiting for my parents at my own kindergarten in the evenings. I found inspiration in the everyday things around me, like the patterns in carpets or lines in tree trunks. Imagination is a power that every child possesses – we can create art out of thin air. With my work for the competition, I wanted to create a connection between childhood and dreaming,' remarked Titova, who has studied graphic design at EKA since last March.
Titova's winning art consists of four works, each 12 metres long and 2.5 metres high, giving each classroom its own face and identity. Titova's vision will take a physical form thanks to the fine art laboratory, Artproof, which prints works of art on specially designed wallpaper that is easy to transport and install.
As a part of the art competition, four practical workshops covering topics such as child-centred interior design, storytelling through images, finding one's own visual language, and copyright and creative entrepreneurship were organised, each with mentors.
'As this environment is being created during reconstruction, it must contain cultural layers. Through art, stories can unfold to offer relief amidst frightening circumstances. Children are forced to grow up quickly when in the backdrop of war, seeing horrors one never should in childhood. The art designed for the walls of these classrooms can offer a haven, helping children retain their childlike sense of wonder and the joy of playfulness and allowing them to blossom in a well-kept, wholesome environment. Daria Titova's works most certainly contribute to this, and we hope they will inspire the children's interest in art,' declared Piret Hartman, Minister of Culture.
'I am very pleased that students from Ukraine are a part of creating this kindergarten, because they know the local conditions and have a kinship with these little compatriots. The fairytale-inspired winning design is symbolic: New stories and new heroes have been born in spite of this unequal war against Russia. It is great that the Estonian-initiated kindergarten can offer a safe and uplifting environment where these stories can be told,' commented Tiit Riisalo, Executive Director of ESTDEV.
Estonia is one of the first countries actively involved in rebuilding Ukraine, and through its initiative and successful projects seeks to inspire other countries to join reconstruction efforts.
Through its contributions to rebuild Ukraine, Estonia shares its best practices, including organising works of art intended for public buildings that enrich the aesthetics of the environment. In order to provide an opportunity for young Ukrainian artists, in the case of the Ovruch kindergarten, the aforementioned art competition was held in cooperation with the Estonian Academy of Arts, which accepted several dozen Ukrainian students last spring.
Competition entries were evaluated by a jury which consisted of artist and illustrator Mark Antonius Puhkan, architect Johanna Jõekalda, interior designer Malle Jürgenson, graphic designer Pärtel Eelmere, representatives of the Ukrainian kindergarten Anna Piven and Nina Mykolaichuk, and the architect who designed the kindergarten, Tiit Sild from the SPORT Architecture Bureau.
Irina Tanasiichuk took second place in the competition, with her design inspired by the Ukrainian children's song, 'Kitty, Kitty, Where Have You Been?' Kateryna Tyshchenko and Oleksandra Tumyk shared third place. The jury also decided to formally recognize the designs of Taras Shkoliarenko, Maria Nebis, and Baria Shevchenko, each of whom received  a cash prize. Prizes totaled €2,875.