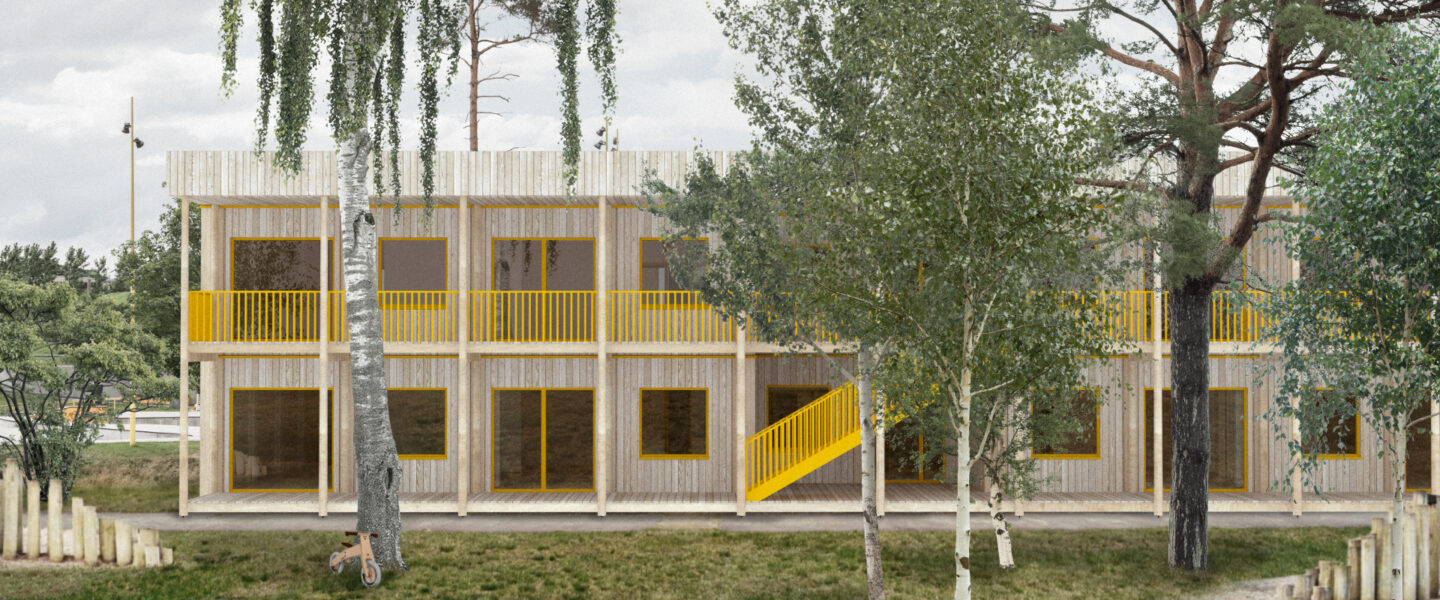 The Tallinn City Government is organising an architectural competition to find a high-quality and most suitable architectural solution for the first 'pattern kindergarten' of its kind. This is the first architectural competition where the 369 Pattern Buildings (in Estonian, Mustermaja 369) design system developed by Timber Architecture Competence Center PAKK of the EKA Architecture Department is used for the design of a public building. As part of the design competition, the best environmentally friendly solution for the Päikene and Pääsupesa kindergartens in Põhja-Tallinn district is being sought, which would allow the wooden modules produced in the factory to be flexibly adapted to the needs of the kindergarten.
"The pattern house pilot project can be a solution for building new kindergartens faster, as this technology is flexible and efficient. At the same time, we do not lose functionality or the quality of architecture, as the model house system is flexible enough to leave the architect creativity and room to play," said Vadim Belobrovtsev, deputy mayor of Tallinn. "We also want to contribute to the birth of circular economy construction, which would prioritise renewable resources and keep materials in use longer. Therefore, for the first time, we are applying the pattern building system for the design of a public building, where the modules are mostly made of wood."
Renee Puusepp, head of the EKA model house research group who adapted the 369 Pattern Buildings system for the competition, believes that the new kindergartens shed light on the circular economy in construction: "The public architecture competition seeks a flexible model building that can be adapted to different urban spaces. The environmental friendliness of new kindergartens must be achieved by using biogenic, i.e., grown materials in the building's structures and by reusing and reusing building components." Puusepp added that modular model houses are of higher quality, more environmentally and human-friendly, and more affordable when implemented correctly, compared to conventional buildings built on the site.
The establishment of new kindergartens as a pilot project in the Pattern Building system is also justified because the spatial programme of the kindergartens is clear and standard. The modules produced in the factory make the construction and assembly of the building faster and more efficient, and since the modules can be easily combined in different ways, kindergartens designed from them can be built in various environments and on properties with special shapes.
The deadline for submission of competition works is October 11. More information: http://www.arhliit.ee/uudised/algas-musterlastaeia-arhitektuurivoistlus/
Timber Architecture Research Center PAKK is a separate research center of the Faculty of Architecture of EKA, combining research and teaching with new design methods, living environment and product development, bringing together students, specialists, researchers and clients from both the public and private sector. The research directions of PAKK are divided into three sub-topics: the green revolution in construction, the digital revolution in industry and new methods for designing wooden factory buildings.
More info:
Anna Tommingas
PAKK Project Manager
anna.tommingas@artun.ee