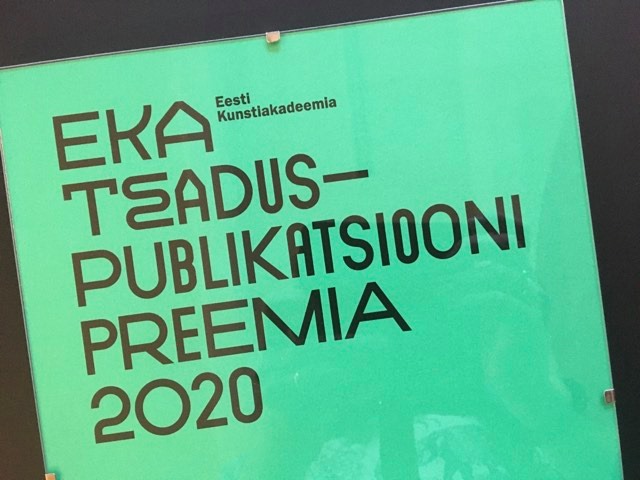 Monographas and Proceedings
Maris Mändel
Tehiskivimaterjalid Eesti 20. sajandi arhitektuuris. Kasutuslugu ja väärtustamine. Doktoritöö. Tallinn: Eesti Kunstiakadeemia, 2019
Lilian Hansar (koostaja). Eesti linnaehituse ajalugu. Keskajast tsaariaja lõpuni. Tallinn: Eesti Kunstiakadeemia, 2019
Epp Lankots ja Triin Ojari (toimetajad). Suvila. Puhkamine ja arhitektuur Eestis 20. sajandil. Tallinn: Eesti Arhitektuurimuuseum, 2020
Krista Kodres, Merike Kurisoo ja Ulrike Nürnberger (toimetajad). Indifferent Things? Objects and Images in Post-Reformation Churches in the Baltic Sea Region. Petersberg: Imhof Verlag, 2020
Kristina Jõekalda. German Monuments in the Baltic Heimat? A Historiography of Heritage in the 'Long Nineteenth Century'. Doktoritöö. Tallinn: Eesti Kunstiakadeemia, 2020
Academic Articles
Regina-Nino Mion Representational Abstract Pictures. – Krešimir Purgar (toim). The Iconology of Abstraction: Non-figurative Images and the Modern World. Routledge, 2020, lk 77−85.
Anneli Randla Um wessen Erbe handelt es sich letztendlich? Schutz und Konservierung kirchlichen Kulturerbes in Estland im 21. Jahrhundert. – Andreas Fülberth (toim). Denkmalschutz – Architekturforschung – Baukultur. Entwicklungen und Erscheinungsfromen in den baltischen Ländern vom späten 19. Jahrhundert bis heute. Köln, Wien: Böhlau Verlag, 2020, lk 121−138.
Liisa-Helena Lumberg The World on Your Pencil Tip. Baltic German Artists' Travel Materials as Mediators of Knowledge in the Context of Travelling in the Enlightenment. – Journal für Kultur und Geschichte der Deutschen im östlichen Europa / Journal for Culture and History of the Germans in Eastern Europe, 1, 2020, lk 29−50. "Prorafaeliidid". Religioosse kunsti klassikaline ideaal ja teoste toimijapotentsiaal 19. sajandi esimesel poolel Eesti- ja Liivimaal. – Kunstiteaduslikke Uurimusi / Studies on art and architecture, 29 (1–2), 2020, lk 90−120.
Maroš Krivý Platform Urbanism and Knowledge-Power. – M. Hodson, J. Kasmire, A. McMeeking, J. Stehlin and K. Ward (toim-d). Urban Platforms and the Future City. Routledge, 2020, lk 164−176.  Faceless Concrete Monsters, c. 1990. – Kenny Cupers, Helena Mattson, Catharina Gabrielsson (toim-d). Neoliberalism: An Architectural History. Pittsburgh: University of Pittsburgh Press, 2020, lk 89−109.
Research or Practice Based Research
Sofia Hallik ja Darja Popolitova  Digitally Produced Jewellery: Tactile Qualities of a Digital Touch. – Journal for Artistic Research 19, 2019
Kristi Kuusk Ana Tajadura-Jiménez, Aleksander Väljamäe ja Kristi Kuusk. Altering One's Body-perception Through E-Textiles and Haptic Metaphors. – Frontiers in Robotics and AI, Feb 2020
Kristi Kuusk, Ana Tajadura-Jiménez ja Aleksander Väljamäe. A transdisciplinary collaborative journey leading to sensorial clothing. CoDesign – International Journal of CoCreation in Design and the Arts, Oct 2020
Andres Uueni, Adam Dlesk, Karel Vach, Jüri Pärtna. From Analogue to Digital Photogrammetry: Documentation of Padise Abbey in Two Different Time Stages. – Applied Sciences, 10 (23), 2020
Sille Pihlak ja Siim Tuksam Manifesto: Practice for Architecture, Research and Theory. – M. Ozvaldic; B. Pap; I. Umbrasaite (toim-d). Positions: Unfolding Architectural Endeavors. Vienna, Austria: Birkhäuser, 2020, lk 147−159