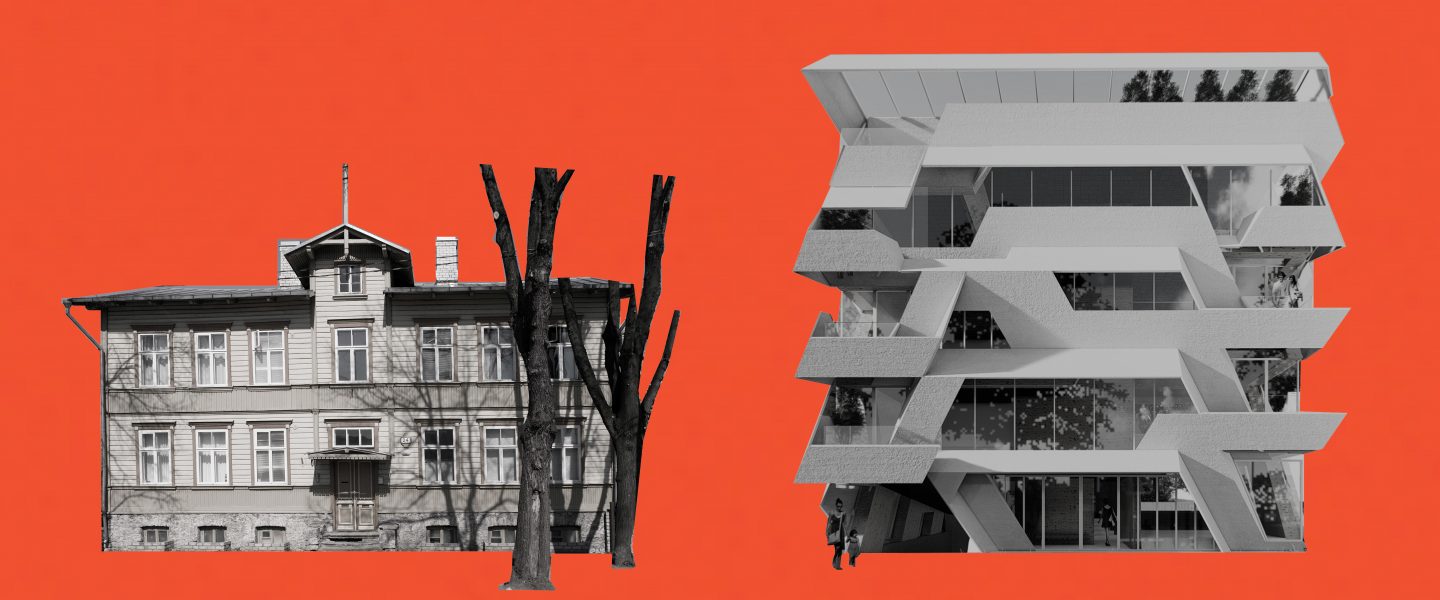 Lender House, early 20th century // what does a future Tallinn wooden apartment building look like?
The Estonian Academy of Arts, Faculty of Architecture and the Estonian wood processing company Arcwood will start a cooperation project this autumn with the support of Enterprise Estonia to create a modern approach to the century-old Lender standard house, a simple and affordable apartment building. Lender's houses were built in Tallinn a hundred years ago so much that the number of wooden houses in the city doubled in just a dozen years, offering a solution to the housing needs of fresh Talliners who moved to the city.
But what type of apartment building does Tallinn need today and how to solve a new apartment building using the best knowledge of the Estonian wooden architecture industry and architects?
According to Professor Mart Kalm, Rector of the Estonian Academy of Arts, EKA is always happy to be a laboratory where new knowledge and industry opportunities meet: "One hundred years ago, the "newcomer" of wooden architecture, which today we conventionally call the Lender House, changed the look of entire districts of Tallinn to what we know today on the example of Kalamaja, Pelgulinn, and some parts of Kadriorg and Uue-Maailma district. Continuing to value cultural heritage, a 100 years later it is time to ask which wooden apartment building project could prove so popular today that it would shape the new face of Tallinn."
The project involves renowned Estonian researchers, in addition to architecture, also specialists in wood engineering, energy efficiency, acoustics and fire safety. As a result of a project that will last one and a half years, a preliminary design of a four-storey apartment building in the city of Tallinn will be completed in accordance with current construction standards.
Researchers and house construction companies have set their minds on the most climate-neutral construction possible, one that would value ​​domestic raw materials and would also be fast thanks to modular construction, says Tarmo Tamm, Member of the Board of project partner Arcwood: "Together with EKA, we are investing in science and construction so that the CO2 footprint of the new apartment building in Tallinn can be as minucule as possible, and at the same time we want to know what a standard building should offer today, in order to become as successful as the Lender house a hundred years ago."
The sLender House research project will begin with a public discussion in the hall of the Estonian Academy of Arts, on Thursday, September 23 at 6 pm. Researchers will be discussing the bottlenecks of their fields and  the opportunities that contemporary wooden architecture can provide.
A valid immunization certificate or negative test is required to enter the event. There is no on-site testing.
The event will be broadcast on EAA TV
SCHEDULE
18.00 Andres Ojari, Dean of the Faculty of Architecture, EKA
Welcome words. Why is it important to do research with industry?
18.10 Sille Pihlak – EKA researcher, architectural practice PART
Welcome words, introduction to the project
18.15 Tarmo Tamm – Arcwood, Peetri Puit
Introduction to the collaborative project. What is the vision of a typical house for the future of a wooden house manufacturer?
18.30 Siim Tuksam and Sille Pihlak – EKA researchers, architectural practice PART
Opportunities and bottlenecks in urban wooden architecture. From Lender to sLender
18.45 Eero Tuhkanen – building construction specialist, TalTech
Possibility of multi-storeyness in wooden architecture
19.00 Alar Just – building construction specialist, TalTech
Fire safety of wooden houses in today's possibilities.
19.15 Marko Ründva – acoustics specialist, Kajaja Acoustics
Acoustic features of wooden buildings
19.30 Simo Ilomets – energy efficiency specialist, TalTech
"Breathing house" or airtight wooden buildings with a good climate – how is this possible?
20.00 Summaries, questions and answers
Thank you for your support: EKA, Arcwood, Enterprise Estonia