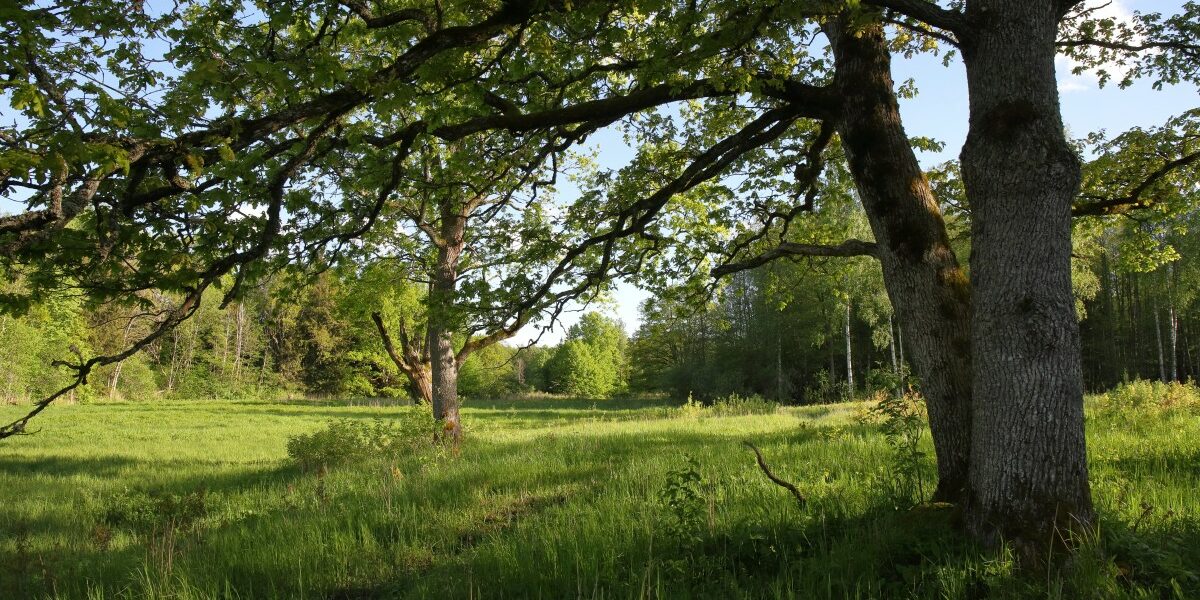 The Estonian-Latvian joint LIFE project (LIFE20 NAT/EE/000074) "Restoring and promoting a long-term sustainable management of Fennoscandian wooded meadows in Estonia and Latvia" focuses on the restoration of wooded meadows in Estonia and Latvia, creation of sustainable solutions for maintenance and on raising public awareness of the natural and cultural heritage of wooded meadows and their protection and management.
Today, disused wooded meadows have largely become overgrown, and their area has shrunk to almost non-existent throughout Europe. Today, unfortunately, wooded meadows are no longer important on farms, but they continue to be an extremely important habitat for rare animal and plant species, carrying the values of both open meadows and forests. Wooded meadows are also carriers of great species richness – more than 70 different plant species can grow on one square meter, which is also very special on a global scale.
In 2021, 1,100 ha of wooded meadows were maintained, 1100 ha in Estonia, and 343 ha in Latvia, which is not enough to ensure the long-term preservation of these species-rich habitats. According to the "Action Plan for Semi-Natural Meadows 2021-2027" and the Latvian Natura Financing Action Plan (PAF), the goal is to maintain 2,000 ha of wooded meadows in Estonia and 992 ha in Latvia by 2027.
In order to increase the maintenance area of wooded meadows in both countries and to help ensure the preservation of natural values in the future, a LIFE project has been launched with the support of the European Union, one of the goals of which is to restore overgrown areas.
In addition to improving the condition of wooded meadows, the project aims to promote the sustainable maintenance of wooded meadows, monitor the effectiveness of the project, and increase public awareness of the natural and cultural heritage of wooded meadows and their protection and management.
There are a total of 33 project areas in Estonia and Latvia, of which 25 project areas in Estonia are located in Saaremaa, Hiiumaa, Pärnu County, Lääne County, Lääne-Viru County, Rapla County, Tartu, and Valga County, and 8 project areas in Latvia.
Duration:
November 1, 2021 – December 31, 2026
Partners:
Estonian Environmental Board (Lead Partner)
Estonian Seminatural Communities Conservation Association
Estonian Fund for Nature
University of Tartu
Estonian Academy of Arts
Latvian Fund for Nature
European Section of the Society for Ecological Rehabilitation.
Financing:
The total budget of the project is 6,697,642 euros, of which the participation of the Environmental Board is 3,756,9877 euros, and the participation of the partners is 2,940,765 euros.
The European Commission will finance the project with 75% or 5,023,229 euros, and the remaining funding will be covered by the project partners and the Environmental Investment Center.
More information about the project on the website of the Environmental Board.
Wooded Meadows Interdisciplinary Summer School 2023
Contact:
Riin Alatalu
riin.alatalu@artun.ee