Exciting times! Our second international summer school organized by the Open Academy of the Estonian Academy of Arts is not very far away anymore. The courses take place in August, but the deadline for registration is today, 22nd May! So, hurry up – the schedule and more info available here: https://www.artun.ee/summeracademy/.
If you're interested to know what to expect from this year's Summer Academy and hear about previous year's experiences, then keep reading.
Interaction Design Tomorrow, 6th-10th August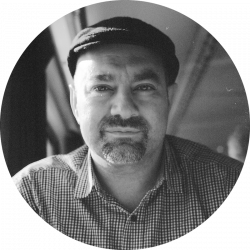 Meet Haig Armen who's supervising our creative and practical summer course Interaction Design Tomorrow. He's a professor and designer living in Canada, born in the UK of Armenian descent. For the past seven years, Haig's lead the Interaction Design Undergraduate program at Emily Carr University of Art + Design in Vancouver, BC. His academic background is in music and architecture with an extensive career as a professional musician and composer. Over the past two decades Haig has designed interactive work for prestigious companies like CBC, BMW, Chanel & Nokia.
Tell us a little bit about your course.
"My course in August will be intense. It's a deep dive into the design process, exploration of problem spaces and opportunities with a local contextual inquiry.
One recent UX workshop in Armenia with teenagers ended up with a mobile app that allowed citizens of Yerevan to pinpoint specific sites where there was garbage on the street and encourage a civic engagement.
Results from the workshop may range from prototypes of new social services, interactive public installations to the web or mobile applications."
Who should participate in your course and why?
"I'm hoping that the course will attract a variety of people ranging from those interested in how technology is transforming how we live, to those that want to explore finding ways of bettering their local everyday experiences. People new to design as well as experienced, engineers and entrepreneurs will also find value and are all welcome."
What are your thoughts before the course, are you excited?
"This is my first time as a supervisor in the Summer Academy and a first time in Estonia. I'm looking forward to the perspective that we gain as first-time visitors in any place. We seem to have the ability to see overarching infrastructure and everyday experiences in a fresh magnified way that helps us imagine other ways of living. I'm ultimately excited to be working with workshop participants to discover unique issues to Tallinn and proposing interesting solutions."
The Anatomy of Couture, 6th-11th August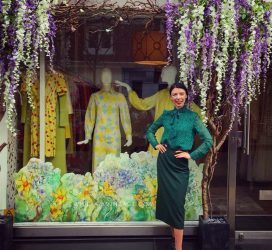 Always fashionable Mirjam in front of vintage clothing boutique William Vintage in London where she works as a Head of Tailoring. Display window is embellished by her own water colour artwork.
Meet Mirjam Maramaa who's the lecturer of our very fashionable course The Anatomy of Couture. Mirjam is Estonian living in London, the UK for the past twelve years. She has bachelor's degree from the University of Arts London where she studied the history of fashion and costume design. Mirjam discovered art and painting at a very early age as a child and has been practicing it ever since.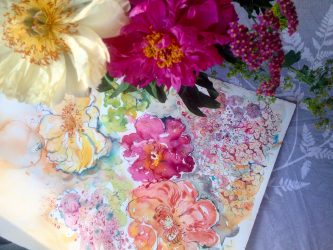 Mirjam's beautiful aquarelle painting that she loves to do on her spare time is inspired by local flowers.
Tell us a little bit about your course.
My course will be an interesting view of 20th-century fashion and its history: the changes of styles and cuts during the different decades. You'll get a practical and theoretical knowledge of how to restore old clothing – a selection of fabrics, stitches and seams, treatment of the material, how different materials age, how to care for and restore different fabrics.
Also, I'm taking with me my own private collection, so it's a possibility to check out interesting fashion pieces.
Who should participate in your course and why?
Everyone who's keen on fashion, sewing or art overall is warmly welcome.
What are your thoughts before the course, are you excited?
I'm beyond excited, and I'm so glad that I have an opportunity to share my passion with others! 
Not only we wanted to talk about what's coming up in this year's Summer Academy, but we also take a step back and share some experiences from the participants of our last year's Summer Academy.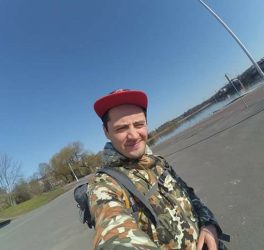 Andres Mutis is an Industrial Design master student in Lund University, Sweden from Mexico City. He considers himself as an outdoorsy person who's fond of traveling which was a reason for applying for Summery Academy course.
In what course did you participate last year? What was your impression?
"Last year I attended in Toys for Elephants course. A year before in 2016 I took part of 5th Season Wilderness Summer School II and Traditions and Innovation II. All the workshops, other participants, and Tallinn itself left such a good impression, so I always try to come back for more."
What did you learn the most?
"For me, the most valuable experience has been meeting other people, sharing ideas with peers, and extra-curricular activities (bar hopping, sauna, karaoke, etc.). With many of the people I have met on these courses, I still keep in contact and occasionally meet up with, both, in other courses and outside of the courses.
The courses are always very well prepared and have excellent tutors, they are an excellent opportunity to pick up a new set of skills and hobbies. During the wilderness summer school, there was a lot of canoeing, this quickly became a hobby, which I still practice here in Sweden."
Who do you recommend to take part of the Summer Academy?
"Courses are perfect for people who have an adventurous spirit, enjoy meeting new people, and learning new things in both their trade and about themselves."
Siim Jesper Varblane is a 3rd-year student in Estonian Academy of Arts where he studies product design. Most of his time he works on his school projects and is also involved with interior design. Siim Jesper's hobbies include different art forms as well, painting, drawing, music, and design.
In what course did you participate last year? What was your impression?
"I participated in Toys for Elephants course. The aim was to create toys for elephants living in Tallinn Zoo for raising their cognitive capacity.
The experience was both fun and educative. I liked the whole vibe, including people, place, and the ultimate purpose of it. It created a positive synergy around us."
What did you learn the most?
"I learned how to work with a team in a multilingual environment. Also, I enjoyed working with people from different counties and backgrounds. This course put us on a test to do as much as possible in a very little time." 
Who do you recommend to take part of the Summer Academy?
"I recommend Summer Academy for a student who wishes to develop one's teamwork skills with nice people and do something interesting at the same time."