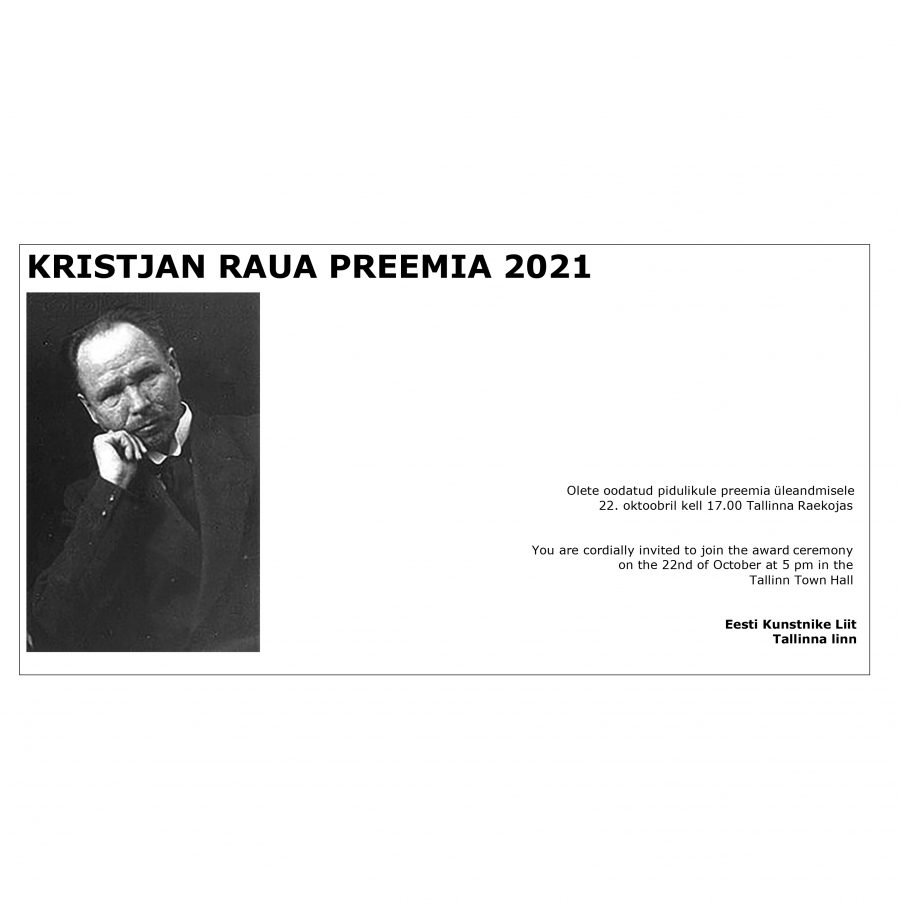 Kristjan Raud Art Award nominees 2021
In 2021, 22 artists and art historians were nominated for the Kristjan Raud Art Award by the members of the council of the Estonian Artists' Union, Estonian art institutions and cultural publications:
EKA graphics' alumna Inga Heamägi, master of painting, Kristi Kongi, master of graphics, Lauri Koppel, alumna of sculpture, Elo Liiv, Tamara Luuk, alumnus of graphics, Rein Maantoa, alumna of sculpture Terje Ojaver, Sirje Petersen, alumnus of architecture Jaan Pärn, EKA Professor Emeritus, Tiit Pääsuke, Rein Raamat, alumnus of architecture Toomas Rein, Master of interdisciplinary arts, Jane Remm, alumna of painting and long-time lecturer Mari Roosvalt, former EKA Vice-Rector, Andres Tali, Master of Graphics, Kadri Toom, EKA Graphics' alumna, Kelli Valk, EKA Master of photography, Kristina Õllek, and EKA Graphics' alumna, Marje Üksine.
The Kristjan Raud Art Award is the oldest art prize in Estonia – the prize has been awarded jointly by the Estonian Artists' Union and the Tallinn City Government since 1973. The Kristjan Raud Prize is awarded to an artist, art historian or creative group for a work, art project or event completed or published for the first time during the previous year; as an exception, the prize may also be awarded for previously completed works or life's work.
The four prizes and the medals designed by Enn Johannes and executed by Margus Kadarik will be presented to the laureates at a solemn ceremony at Tallinn Town Hall on Friday, October 22 at 5 pm. The names of the winners will be announced on October 21, 2020.
Kristjan Raud's work is one of the primary sources of Estonian culture, the influence of which has reached us through different generations and regimes, transcending different taste preferences and ways of thinking. Kristjan Raud's archetypal role as a great figure of national art culture has only grown over the years – so the nature and meaning of the prize is inadvertently intertwined with the artist's own biography and creative heritage. appearing lines.
The laureates of the award include an impressive list of Estonian artists and art historians, whose activities and creations have gained recognition in the art world and are an important part of Estonian art, similar to Raud's own heritage. Here are just a few of the many: Richard Kaljo, Lepo Mikko, Voldemar Vaga, Bruno Tomberg, Jaan Toomik, Anu Raud, Jaak Soans, Kaljo Põllu, Malle Leis, Kadri Mälk, Heie Marie Treier, Priit Pärn, Kaido Ole, Liina Siib, Ivo Lill, Tanel Veenre.